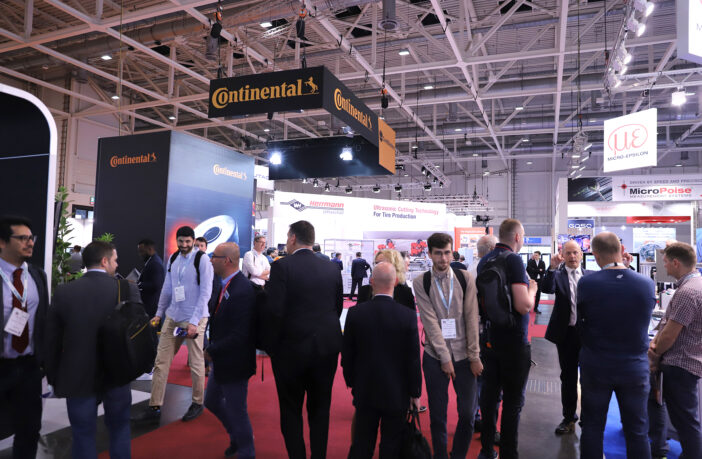 Last week saw the long-awaited return of Tire Technology Expo in Hannover, Germany, providing the perfect opportunity for the tire industry to meet in person once again and see the latest innovations and developments from an international array of leading exhibitors.
Having traveled from all over the world, some of the tire industry's biggest names showcased their technologies and innovations, ranging from new sustainable tire compounds to state-of-the-art dosing machinery and highly accurate testing equipment. Leading exhibitors in attendance included Siemens, ZF Group, VMI Group, HF Group, Danfoss Power Solutions and Bekaert.
"It's been good to be back after two years and it's definitely exceeding our expectations," said Dipan Shukla, head, business field bladders, Continental. "We were not expecting the crowd that we have had and it's good to get in touch with people and meet them again. We are looking forward to being here in the coming years."
Expo highlights included Bareiss's Rubber Process Analyzer (RPA) Ultra, a system which enables engineers to analyze processes and characterize materials such as polymers, rubber and rubber compounds. In addition to performing oscillatory testing over a wide range of frequencies (10-3 Hz to 100Hz) and strains, the RPA supplies a continuous shear rate in full rotation from 10-3s-1 to 500s-1.
Carbon black manufacturer Birla Carbon was also showcasing its Continua 8000 Sustainable Carbonaceous Materials (SCM), a sustainable alternative to traditionally used furnace carbon black. Engineered for the circular economy, the Continua SCM products aim to enable large and quantifiable carbon footprint reductions to help the tire industry become cleaner with more sustainable value chains.
Other notable equipment on show was Lawer's Supersincro, a horizontal, fully automated dosing and weighing system for chemicals used in the mixing room. The customizable system can feed different chemicals – stored in big bags, hoppers, silos or interchangeable silos – into bags of varying sizes, which are produced automatically.
Additional news from Tire Technology Expo can be found here.
The neighboring conference opened with a welcome presentation from Tony Robinson, chairman and CEO, UKi Media & Events, and founder of Tire Technology Expo. Conference highlights included the presentations 'GDSO eases tire data exchanges and enables new connected services' by Riccardo Giovannotti, secretary general Global Data Service Organisation for Tyres and Automotive Components (GDSO), and 'New developments in rubber rheology by advanced RPA testing' by Dr Jorge Lacayo-Pineda, head of expert field for materials evaluation, Continental, during the opening plenary session moderated by Rudi Hein; and 'Tires and the environment' by Frederic Biesse, senior fellow tire physics and performance modelization, Michelin, during the 'Sustainability, Recycled Materials and Pyrolysis' steam.
When asked about why it is so important to be at Tire Technology Expo, Dominique Scheider, responsible for industry strategy and marketing, transportation, EMEA, Rockwell Automation, said, "It's a mix of nurturing the customers we know very well, the ones we work with every day, but here we [also]have the machine builders and the end users – the entire ecosystem. [It is] an opportunity to introduce who we are and how we contribute to making this ecosystem work successfully."
"This is the first time I have come to the event, [and]we have had some very good conversations with customers," said Javier Alcazar, sales director for automotive and Tier 1, Festo.
For more information and videos from this year's event, click here. With the 2022 event a resounding success, dates have now been announced for 2023. Tire Technology Expo 2023 will take place in Hannover, Germany on March 21, 22, 23.